Storage Standards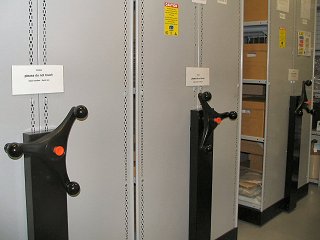 The purpose of BCHRC is to provide secure, environmentally controlled storage for the wealth of heritage collections and items found locally. From the inception of the project, professional museum staff played a key role in establishing the security and design criteria for the building, whilst documentation relating to the hire of shelf space has been closely guided by legal advice.
The statutory and legal framework
BCHRC is the responsibility of The House on Crutches Museum Collection Trust (HOCMCT), the trust which runs the House on Crutches Museum. HOCMCT is a registered charity and a company limited by guarantee, registered in England and Wales with Companies House. Both registrations impose specific standards of conduct on the trust and require annual returns, including audited accounts, to demonstrate compliance.
The House on Crutches Museum is also fully registered with Re:Source, the successor body to the Museums and Galleries Commission. The trust has to maintain standards set for museum registration and supply annual returns and reports to demonstrate this. In turn, the scheme obliges statutory providers, Shropshire Council and the Museums, Libraries and Archives - West Midlands, to offer HOCMCT professional advice and support on establishing procedures and to provide access to specialist personnel and facilities as well as training.
Security
All possible precautions and standards have been met both internally and externally to ensure the highest standards of security are achieved thereby ensuring the safety of the collections in our care. If you are a potential depositor and require further information, please contact us.
The store
Natural light has been totally excluded. UV filtered strip lighting is installed in the store and throughout the building. The store environment is constantly electronically monitored for relative humidity, which is at 55% ± 5% maintained by an automatic de-humidifier. For further information on the store, see our store standards document.
Procedures
The procedural rules relating to the store and its contents are communicated to all volunteers and visitors. Access to the store is limited to authorised BCHRC volunteers and professional advisors and is minimised to avoid changing the environment in the store. Collection items receive the minimal handling required to transform them from their un-archival condition on reception to the archival condition in which they will enter the store. Copying of and access to these items will only occur with the permission of the depositor.
For further information on becoming a depositor please contact us.