Bishop's Castle Railway and Transport Museum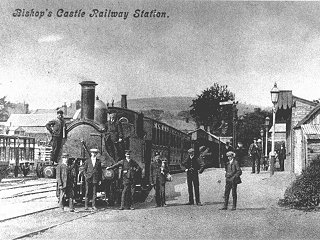 The Bishop's Castle Railway and Transport Museum is a heritage site established and run by an enthusiastic team of volunteers. The museum was opened in 1999 to preserve records and memorabilia of the Bishop's Castle Railway, but has since expanded to include other material which is of great interest to railway enthusiasts and casual browsers alike.
Although the history of this remarkable railway extends over a period of 70 years, 69 of them were in receivership! The line was originally planned to run from Craven Arms to Montgomery with a branch to Bishop's Castle, but money ran out before the last stretch could be built.
Although the line was a financial disaster under perpetual threat of closure, it played a vital role in the community and was affectionately regarded by locals and visitors alike. It was a sad day when the line was finally forced to close in 1935.
The Bishop's Castle Railway Society was set up in 1989 to preserve remaining artefacts from the railway, and the society runs the museum staffed by volunteer members.
In July 1999 the museum moved to its present location but its development was badly affected by a fire in October 2000. Following an enormous effort salvaging the building and its artefacts, the museum opened its doors again at Easter 2002 and is now open between Easter and October on Saturdays, Sundays and bank holidays from 2-5 pm.
Group visits are welcome outside of the normal opening times by prior arrangement.