Family History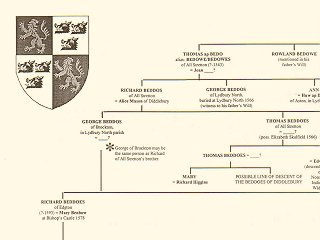 You may have begun to research your family history - or be thinking of doing so.
Bishop's Castle Heritage Resource Centre can help you with a local and accessible research facility and archive. Many local sources of family information are available here in Bishop's Castle, so reducing the need for expensive and time-consuming journeys into Shrewsbury!
As a Local History Centre, we provide a drop-in facility every Saturday from 10.30 am to 1.00 pm. Come along, we'll help you to get started.
A great deal can be done on the Internet, and we'll show you where to look. To begin, look at some useful websites.
We have a lot of really useful records right here in the centre for those of you whose search involves local names and families. These include:
Census returns
For Bishop's Castle for 1841, 1851, 1861, 1871, 1881, 1891 and 1901. Some of these returns are also transcribed and indexed for ease of access.
Registers
Bishop's Castle parish registers 1559 - 1837
Bishop's Castle and Clun Methodist Circuit
Bishop's Castle Independent Chapel
Society of Friends (Quakers) for Shrewsbury, Broseley and Coalbrookdale
Records of trade directories entries
Bishop's Castle 1828 - 1941
Clun 1849 - 1941
Other records
Shropshire Burials Index 3rd Edition (CD-ROM)
Shropshire Quarter Sessions Index
Monumental Inscriptions
List of holdings for Bishop's Castle Town Council at Shropshire Archives
Records for Montgomeryshire
Churchstoke
Hyssington
Kerry
Montgomery
Sarn
Snead
Censuses for 1891 and 1901
Over and above these resources our most recent project has added equivalent records for the 20 surrounding parishes and hamlets. See the Local History Centre Resources page for more information.
We look forward to helping you get started on a fascinating search as you seek to discover
Who you think you are!